Hello Summer 2019
Description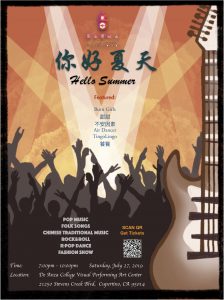 每当黄昏回家的路上
广播里放着摇滚电台
抬头仰望变幻莫测的天空
总会有一种恍若隔世的穿越
真的很希望
我们每年都会说
这个七月,我们一起去听
【你好!夏天 2019】
When   7/27/2019, 6:30-11:00 pm
Where : Performing Art Center. De Anza College, 
21250 Stevens Creek Blvd, Cupertino, CA 95014
节目单稍后公布
(購買後會收到電子郵件確認)
—————————————————–
Contact us  contact@bacma.org or baympa@gmail.com
Please contact us through email if you have any question|欢迎咨询票务等任何问题,请用email联系我们
We are also calling for media press and sponsor collaborations|期待媒体和赞助方和我们联系!
Tickets*(此部分座位为bacma预留座位,偏后方,具体参看官方售票地址:http://hellosummer2019c.eventbrite.com 的seating chart) 
VIP 区域 $38.  (Row B Central Area, Row D,E,F Both Sides)
普通区域 $25. (Row L-R Both Sides, R and S Central Area)
Location & Parking :
De Anza College is located at the intersection of highways 280 and 85 in Cupertino, for easy access from all directions in the San Francisco Bay Area.  The VPAC Theater is a large orange building closest to the intersection of North Stelling Rd and Stevens Creek Blvd.
Visitor $3 all-day parking is available in nearby parking lot A.
Additional information
| | |
| --- | --- |
| Choose Ticket Type | VIP $38, General $25 |