Bands
now browsing by category
Bay Area local Chinese musician bands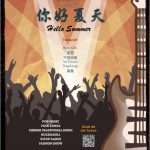 每当黄昏回家的路上
广播里放着摇滚电台
抬头仰望变幻莫测的天空 
总会有一种恍若隔世的穿越
真的很希望
我们每年都会说 
这个七月,我们一起去听
【你好!夏天】
[embedyt] http://www.youtube.com/watch?v=qCqPyXupGvk[/embedyt]
Post-Youth is a new blood joined the SF Bay Area Chinese music community in 2016. The four band members were connected by a mysterious Mr. X in a rehearsal hall. Ever since they explored music together while did not rush to define the band style or music genre. After a short period of four months since formed, the band rolled out the demo of their first original work "Invisible Cities". The song mixed the freaking and the beautiful in tribute to Calvino's novel of the same name.
Yufei Nan – vocalist and rhythm guitarist, talented song writer. He used to play gigs in Xiamen, China as a solo folk singer
Fanfu Meng – lead guitarist, a metal head with slightly splitting personality. He's the crazy one in the band
Anqi – bassist, a Ph.D. in mathematics, classical music player
Jing Guo – seasoned drummer. He used to play in underground bands in Nanjing, China. His band attended Midi-Fest in China
后顽乐队成立于2016年3月。通过神秘人X的介绍,四位乐手在南湾的排练房相互结识。他们处在"后青年"的年纪,却依然保有顽童的心态,任性地做着风格不好被定义的音乐。同年7月,乐队第一首歌《看不见的城市》demo正式浮出水面。乐曲在怪诞尖刻和清亮优美的旋律中交替穿梭,让人仿佛置身于卡尔维诺笔下臆想的城市。
南云飞 – 主唱/吉他,负责乐队词曲创作。曾对民谣乐队抱有幻想,然而终日懒惰愚钝,无疾而终。
孟凡夫 – 主音吉他,有点人格分裂的重金属乐手,误入后顽这一伪摇大坑。负责乐队噪的一面。
邵安琦 – 贝斯,算不清时间的数学系phd一枚,深厚的古典音乐功底。
郭竞 – 鼓和打击,混迹南京地下音乐圈的郭老师,演出经验丰富,参演过迷笛、草莓音乐节。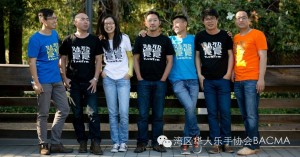 The band is a new blood in the hard core/classical rock genre formed in 2014 by a gang of Chinese engineers in the bay area. Early members included guitarist Luyi Wang, bassist Lin Ma, and drummer Lei Cao. Later in October 2014 through March 2015, guitarists Ryan Yue and Youming Liu, vocalists Hao Wu and Artie, and keyboard player Yao Du joined the band and officially named the band Taotie. Till 2017, Band member settled as Guitar: Huanyu an jin zeng. Vocal : Chao chen, bass: Lin Ma, Keyboard: Jessica. Drum : Lei Cao. Taotie is the 5th son of the ancient Chinese totem Dragon who is known for greediness and cruelness. The band named itself after this animal to worship the Chinese origin of the members, as well as to present hard core rock in a way to shake the audience with intensity and strength.
饕餮乐队是一支新晋摇滚乐队,由一群硅谷工程师在2014年成立。早期成员为吉他手Luyi Wang,贝斯手Lin Ma和鼓手Lei Cao。从2014年10月至2015年3月,吉他手Ryan Yue和Youming Liu,主唱Hao Wu和Artie, 以及键盘手 Yao Du 先后加入,并正式命名为饕餮乐队。到2017年,成员变更为: 吉他:huanyu和jin zeng,bass,lin ma,鼓手 leicao, 键盘jessica。 饕餮,龙之第五子,贪婪凶残。乐队以此命名,旨在传承华人传统文化,表达龙的传人在海外的思乡之情,以及代表乐队的硬核摇滚风格,并以此给朋友们呈现出震撼的视听盛宴。